HOURS | Monday-Friday 9AM - 6PM • Saturday 9AM - 3PM • Sunday Closed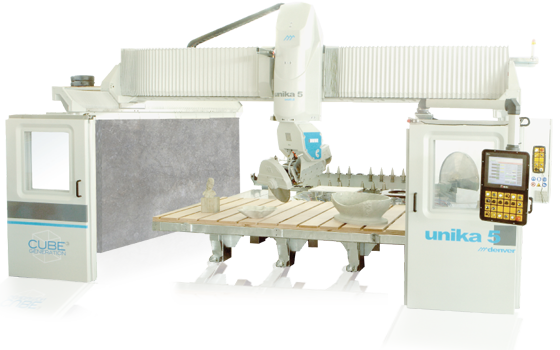 We are the Only Granite company in the area that uses the Denver Unika 5 Solid
UNIKA 5 SOLID is a 5 axes CNC machine that offers a triple advantage:
the sturdiness of a heavy-duty bridge saw, the accuracy of a hi-tech CNC center and a high yield investment enabling the stone worker to meet any processing need. It is available with a wide range of motors, from the traditional powerful air-cooled ones to state-of-the-art ISO40 and ISO50 electrospindles. 
The axes travel on precision steel guideways sliding on revolving balls pads all protected by bellows and are operated by brushless motors with precision gearboxes.
The software interface has been specifically designed to run the cutting cycle as well as the most complex 3D and finishing jobs with the highest degree of working comfort for the operator. UNIKA 5 SOLID can be configured with 2 working stations in order to best fit the machining needs offering unparalleled flexibility. 
The CUBE configuration with electrospindle and automatic tools and sawblades magazine offers the possibility to process kitchen tops, furniture elements, shower plates, artistic carving and much more in a fully integrated cycle, from the raw slab up to the finished product.